CloudiFacturing BioOpt Experiment: Cutting Edge Technology for Biomass Furnaces Including a Real Moving Fuel Bed
Funding
| | | |
| --- | --- | --- |
| | | The project CloudiFacturing receives funding from the European Union's Horizon2020 research and innovation programme (Grant No. 768892). |
Description
Integrating the advanced XDEM software functionality into an easily manageable work flow makes this technology available for both small and medium sized enterprises. A comfortable user interface allows carrying out all the steps required for a full three-dimensional simulation of a biomass furnace from input to final report. Innovative algorithms promote acceptable simulation times at very moderate computational resources.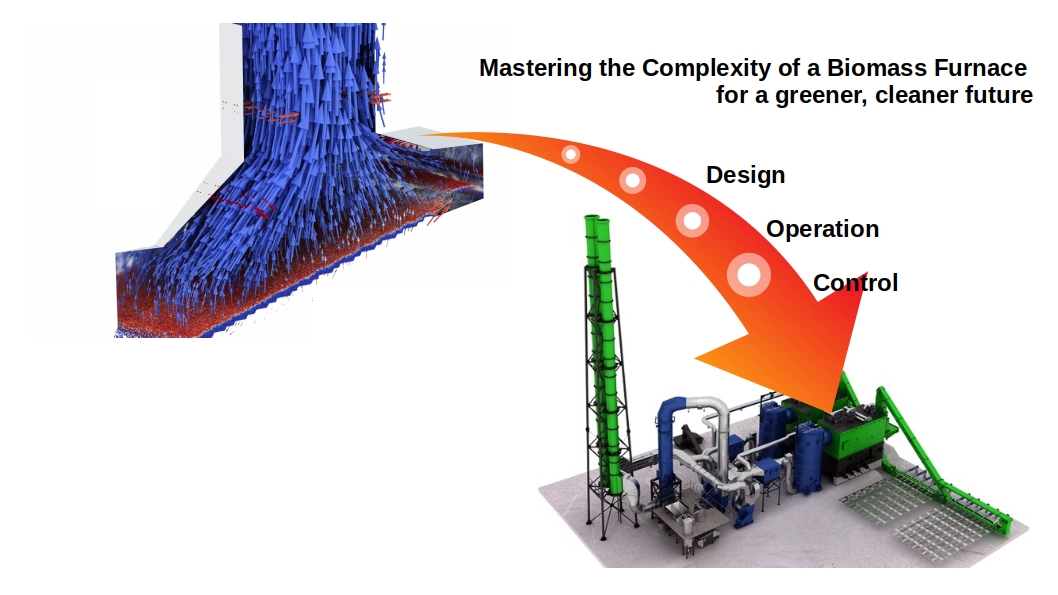 A virtual digital twin of a biomass furnace including a moving bed of woody material with primary/secondary air supply and exhaust gas recirculation provides information at an early stage of the design avoiding costly re-designs.
A fiercely competitive market increases the pressure for faster and innovative technologies. This is achieved by a shift from current empirical-based practice to digital twin technology. Rather than opting for "copy& paste technology" of already proven components and systems from previous generations with little potential for innovative ideas, a digital twin stands at the very start of a project providing crucial information for design and operation. Thus, problems are head before they even occur, downtimes are prevented and new opportunities and future businesses are developed. Hence, a dramatically faster rate for time-to-solution and time-to-discovery is achieved.
In addition, limitations of physical prototyping e.g. cost, time and conservative designs are removed, because a digital twin contributes to a reduced number of expensive physical prototypes in conjunction with a shorter testing phase. It often avoids redesigns because information is already available at an early stage of the development process.
Consortium
In order to tackle the challenges addressed in the project an engaged and enthusiastic consortium of engineers, computer scientists and researchers working in the field of multi-physics and multi-scale design was assembled, for which Europe has some of the finest world-leading communities and a proud heritage of engineering and manufacturing:
This constellation of carefully selected partners brings together interdisciplinary and complementary expertise from academia and industry to develop the innovative technology to which the consortium is aiming at by a well-adjusted interaction between the partners.
People
Contacts: Bernhard Peters, Henrik Rusche
Links
Related Research Topics
Related Publications